Welcome to Hot Shoppes
Would you prefer a booth or a table?
From 1927 to 1999 Hot Shoppes, the creation of Alice and J. Willard Marriott, was a culinary and social institution in the Washington D.C. area.  Promising "Food for the Whole Family," Hot Shoppes was the destination for a family's Saturday evening dinner, a meeting place for a business lunch, and a hangout for hungry teenagers after a ballgame. This site features 1940s and 1950s images of Hot Shoppes people, places, and food as seen through the lens of Fairfax, Virginia-area photographer Charles Baptie and others. So, unfold your napkin and open your menu. We hope you're hungry!
View the Exhibits
Images in this site are presented in three categories or exhibits. They depict people, places, and food associated with the Hot Shoppes brand during the 1940s and 1950s. A few of the photographs are from the 1960s. The People exhibit includes servers, cooks, hosts and hostesses, managers, accounting, human resources, logistics, and food preparation personnel, as well as J. Willard Marriott himself and members of his family. The Places exhibit contains interior, exterior, aerial photographs of Hot Shoppes facilities.The Food photographs are mostly of plated meals, but some are of dining and food preparation settings.
Featured Exhibit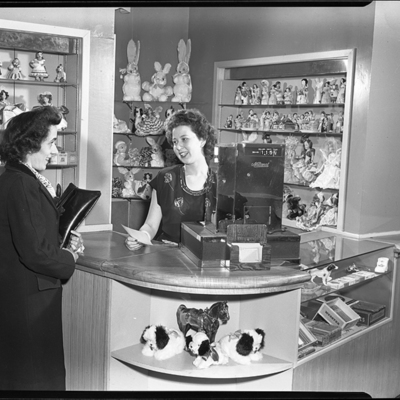 While the original Hot Shoppe at 3128 14th Street in Washington, D.C. had a staff of three, including owners Alice...
Browse the Images!